Dr.David Sinclair said NMN is effectiveness and safty to Human Body if it is dietry supplement or prescription drug
Jan 04,2023 | AIDEVI
Dr.David Sinclair updates the FDA Ban NMN information and Firmly confirmed NMN is effective and safety to human body, weather if it is used as Dietary supplement or prescription drug!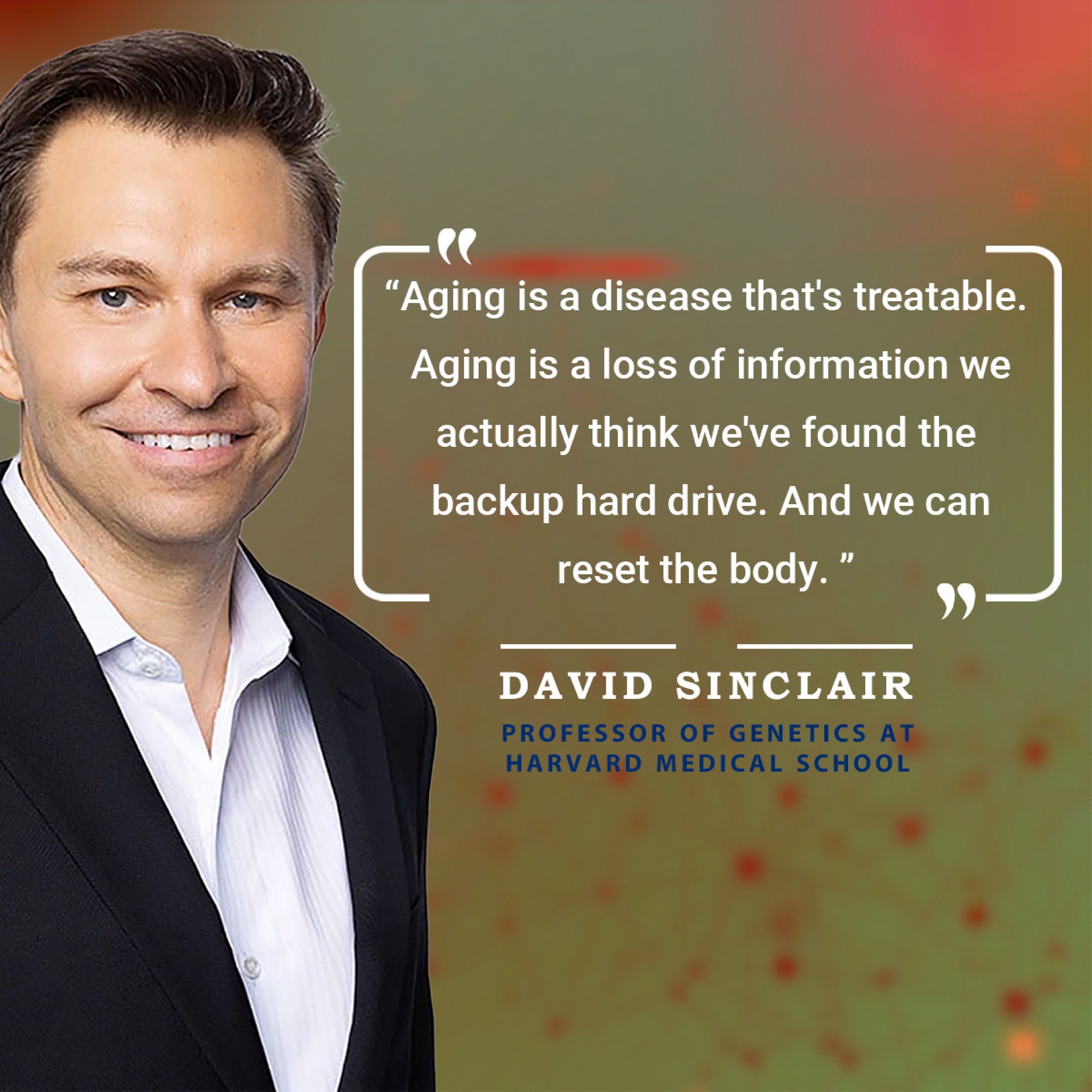 My thoughts and reflection on the FDA's decision on NMN
On November 4th,2022,the US Food and Drug Administration (FDA) published a letter regarding the marketing and sales of nicotinamide mononucleotide(NMN)asa supplement to boost NAD levels. I am deeply grateful for your patience while I've gathered information to share with you about the impact of this decision. I know many of you are worried about what this news means about thesafety of NMN, as well as the possible limitations to the availability of NMN supplements.
I want to make very clear that while NAD boosters such as NMN have become popular as supplements, in part, because of my research, I am not, and have not, in anyway been involved as an owner,cofounder,investor, shareholder,marketer,spokesperson or sponsor ofany company that sells NAD boosters as supplements. The FDA's decision was preceded by a letter from MetroBiotech, a company I co-founded but do not manage or control,pointing out that the company had begun clinical trials with a special,crystalline form of NMN that is stable and made under FDA drug standards. The FDA'sletter is based on the Food,Drug & Cosmetic Act,which states"…the term 'dietary supplement' does not includean article authorized for investigation as a new drug…"In other words,if a clinical trial of a substance has beeninitiated, it cannot be classified as a dietary supplement. In its action, the FDA is in line with its own regulations, which do not allow for the authorization of a substance to be classified as a dietary supplement if it has already been cleared by the FDA for clinical trials.
I remain enthusiastic about the science of NAD boostersand their promise of improving human health. Furthering that science, and the prospect of cellular age reversal, continues to be my life's work, which includes helping other researchers perform clinical trials to address medical conditions like glaucoma, kidney failure, frailty, and rare diseases such as Freidreich's ataxia. Human clinical trials conducted by MetroBiotech on NMN have produced promising results, some of which are published (Pencina et al.,2022) and some are under peer review.
The important work of bringing NMN to market as an FDA-approved medication is in the best interest of the tens of millions of people who suffer from and will succumbto aging-related diseases. The FDA standards for testing, quality control,and efficacy are among the most responsible consumer protection regulations in the world. All consumers deserve the trust,safety and reliability that comes with appropriate regulation and oversight.
Whether NMN will remain on the supplement marketis not yet known but another molecule, N-acetylcysteine (NAC),which is sold both as a supplement and prescribed as a medicine for acetaminophen overdosing and as a mucolytic agent in respiratory diseases,fell under the same law and remains on the US supplement market.
Thank you for your patience and please rest assured that advancing the health and well-being of everyone who could potentially benefit from scientific curiosity and discovery will continue to be my highest priority.
David A.Sinclair,A.O.,Ph.D.
Reference: Pencina et al.(2022)MIB-626, an Oral Formulation of a Microcrystalline Unique Polymorph of β-Nicotinamide Mononucleotide,Increases Circulating Nicotinamide Adenine Dinucleotide and its Metabolome inMiddle-Aged and Older Adults. The Journals of Gerontology:Series A,March 1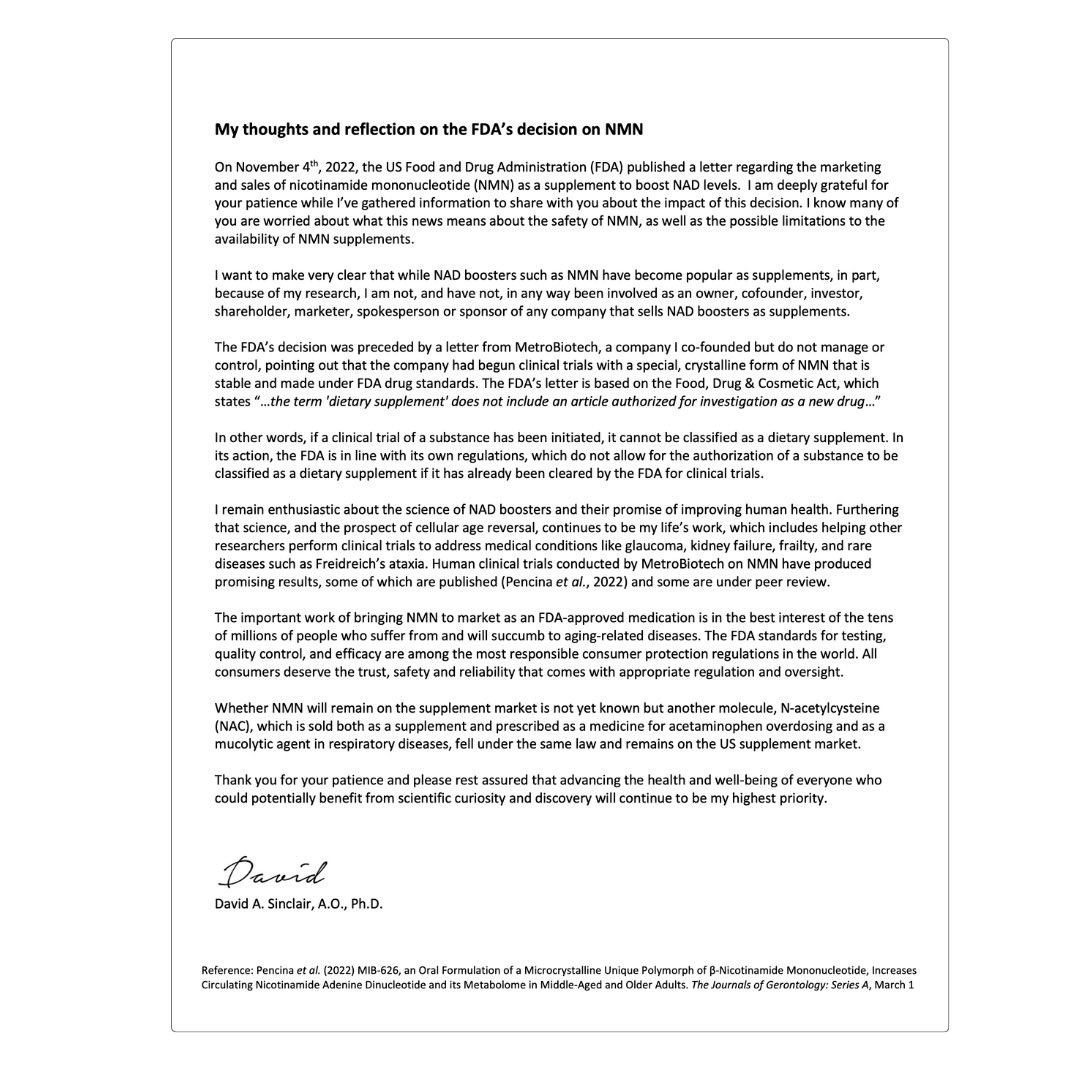 Comment