USA TINUS Pharma Inc Became Member of NPA (Natural Products Association) ---Support the Amazon withdraw the Ban on NMN
Feb 22,2023 | AIDEVI
Author : AIDEVI
According to reports,The Natural Products Association (NPA) has recently requested that Amazon restore sales of NMN dietary supplements. This request comes after Amazon removed all NMN supplements from its online marketplace in response to a letter from the FDA questioning the safety and legality of these products.
NMN (nicotinamide mononucleotide) is a naturally occurring molecule that is found in trace amounts in a variety of foods, such as broccoli, avocado, and cucumber. NMN supplements are marketed as anti-aging supplements, as they are believed to boost cellular energy production and promote healthy aging.
Despite the popularity of NMN supplements, the FDA has not yet approved NMN for use as a dietary supplement. In a letter to Amazon, the FDA raised concerns about the safety and legality of NMN supplements, noting that these products have not undergone the same level of regulatory scrutiny as prescription drugs.
In response to Amazon's removal of NMN supplements from its marketplace, the NPA has requested that Amazon restore sales of these products. The organization argues that NMN supplements are safe and effective when used as directed, and that consumers should have access to these products.
The NPA has also noted that the FDA's letter to Amazon is not a formal regulatory action, and that the agency has not yet taken any steps to remove NMN supplements from the market. The organization has called on the FDA to provide clear guidance on the regulation of NMN supplements, and to work with the natural products industry to ensure that consumers have access to safe and effective natural products.
About Natural Products Association
The Natural Products Association (NPA) is the leading trade association for dietary supplements, natural health and sports nutrition, medical and functional foods, probiotics and natural personal/home care products.
Founded in 1936, the NPA is the largest and oldest nonprofit organization in the United States dedicated to the natural products industry. The NPA represents more than 700 members representing more than 10,000 retail, manufacturing, wholesale and distribution locations for natural products including foods, dietary supplements and health/beauty aids. NPA unites diverse members ranging from the smallest health food store to the largest dietary supplement manufacturer.
Recognized for its strong lobbying in Washington, D.C., the NPA serves as the industry watchdog on regulatory and legislative issues. In 1994, NPA played a key role in the passage of the Dietary Supplement Health and Education Act (DSHEA). This important piece of legislation balances the need for consumers to have access to safe and effective dietary supplements and the need for information, while also upholding the government's interest in protecting the public from unsafe products and false and misleading claims.
USA Tinus Pharma lnc was a member of NPA,its brand AIDEVI NMN is famous in market as dietary supplement and be sold well at Amazon.
On December 14, 2022, NPA (Natural Nutrition Association of America, hereinafter referred to as "NPA") issued the NPA certificate to the United States Tinus Pharmaceutical Co., Ltd., and Tinus officially became a member of the NPA.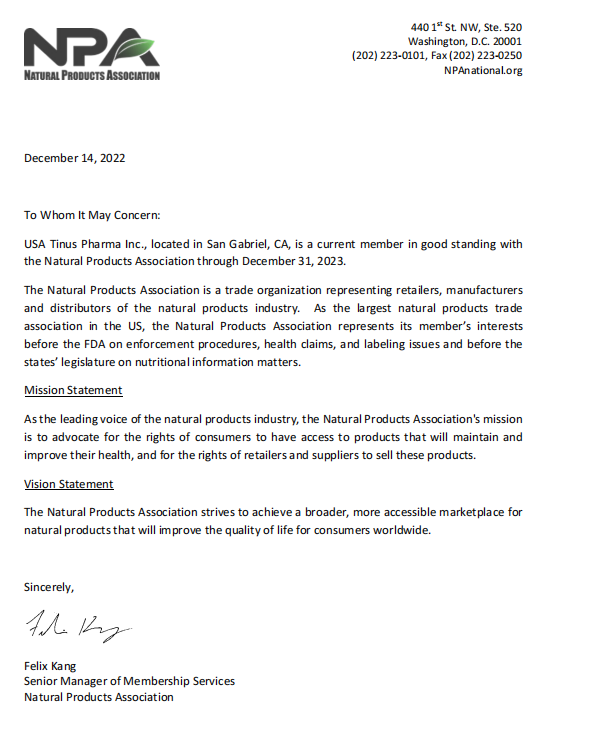 NPA is the largest natural nutrition association in the United States with a history of 73 years. Also an industry leader in Washington, D.C., with a strong lobbying presence and an influential grassroots network at the national, state, and local levels. As the leading voice of the natural products industry, its mission is to advocate for the right of consumers to have access to, and the right of retailers and suppliers to sell, products that maintain and improve their health; its vision is to work to create a Broader, more accessible markets that improve the quality of life for consumers around the world. In a sense, the corporate visions of NPA and Tinus are consistent.
About Tinus Pharma lnc
Tinus International is a large-scale high-tech enterprise specializing in R&D, production, brand operation and service of imported nutritional and health food. The company adheres to the corporate appeal of "gathering balanced nutrition, optimizing core technology, and sharing quality life", and provides comprehensive health protection for the general public through diversified products and services. The company abides by the business philosophy of "quality management, honest service", rigorous production technology and excellent product quality to help consumers obtain ideal health status.
Tinus insists on selecting high-quality raw materials and taking nature and balance as the first standard to measure product quality. The raw materials are produced in many countries and regions, and its own factory has been completed in California, USA.Tinus International uses strict standards to develop and produce dietary supplements, to be a quality enterprise, and to contribute to the health of the public.
Overall, The joining of Tinus to NPA once again proves that all products of Tinus are natural, nutritious and of high quality without additives, and it also shows the determination of Tinus to focus on the health and beauty of global consumers wholeheartedly. Joining the NPA means that you must abide by its corresponding moral standards. Undoubtedly, this is an incentive for Tinus. Tinus is willing to work with NPA to contribute to the orderly development of the dietary supplement industry.
​
Comment