AIDEVI EGT Ergothioneine: A Natural Powerhouse for Cellular Health and Longevity - Made in USA
Introducing the AIDEVI EGT Ergothioneine capsules - nature's elite antioxidant. Crafted from the richness of nature's reserves, these veggie capsules are your holistic companion for superior health, longevity, and vitality.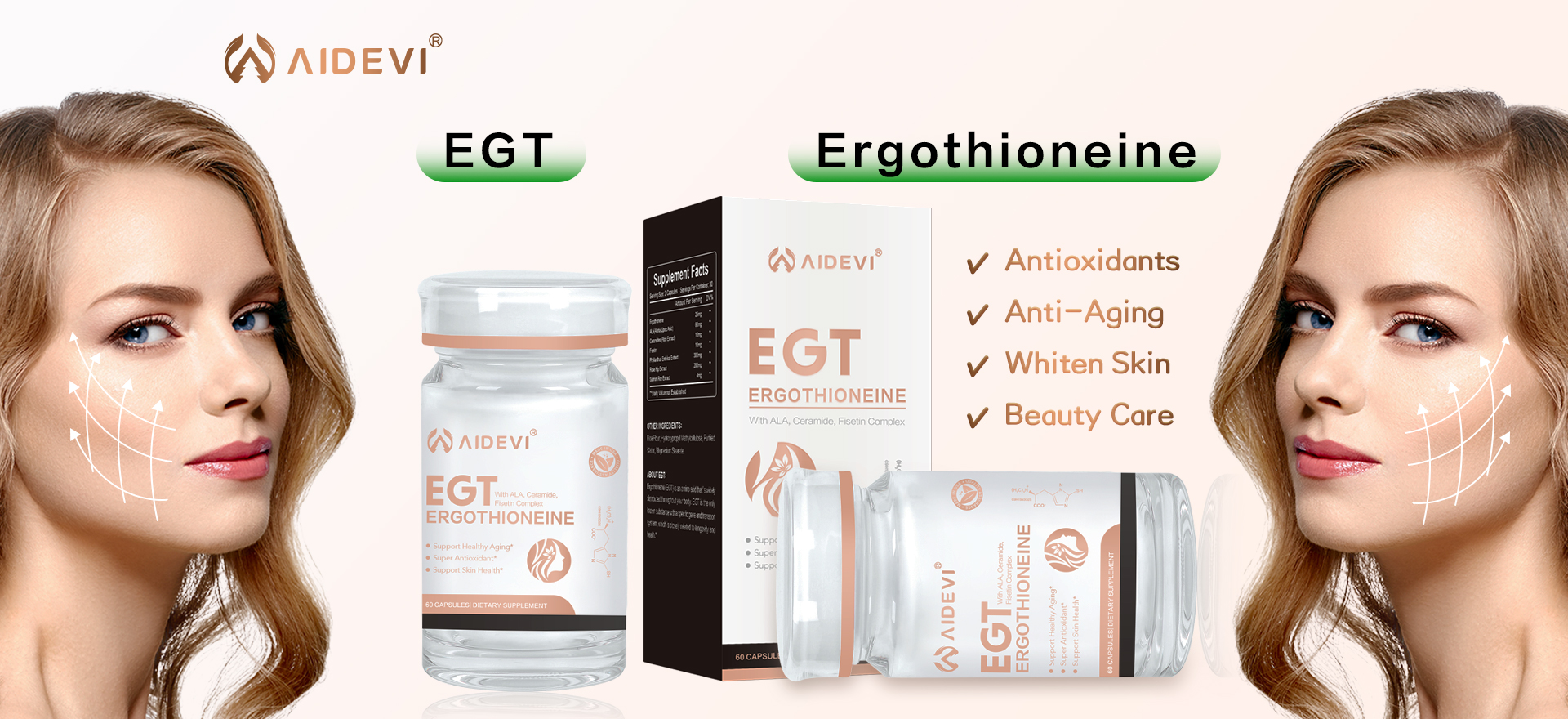 Ergothioneine Benefits Core Highlights:
Antioxidant Mastery: Ergothioneine stands out as a unique amino acid derivative celebrated for its unparalleled antioxidant attributes. Distinct from many of its counterparts, ergothioneine resists converting into a pro-oxidant. This guarantees unwavering protection from the oxidative strains that are often linked to aging.

Tailored for Timelessness: AIDEVI EGT isn't just a supplement; it's an age-defying formula. By battling oxidative stress, ergothioneine champions the cause of longevity, positioning AIDEVI EGT as a cornerstone in anti-aging solutions.

Molecular Guardianship: Embark on a journey to the heart of cellular health. Ergothioneine stands sentinel over DNA, mitochondria, and cells, reinforcing the fortifications of cellular vitality.

Nature's Best, Encapsulated: Commit to purity with AIDEVI EGT. Infused with 25 mg of naturally-sourced ergothioneine per capsule, this supplement is a beacon for those on a quest for undiluted potency.

An Emblem of American Quality: Upheld by rigorous quality assurance, AIDEVI EGT is a testament to American craftsmanship. Every bottle promises unparalleled purity, potency, and safety.
Recommended Use: Adults are advised to take one capsule daily, ideally accompanied by a meal, or as guided by a qualified health professional.
Note: Prior to incorporating any new supplements, always seek counsel from a healthcare expert.
Key Constituents:
Main Component: Ergothioneine (25mg)

Complementary Ingredients: ALA (Alpha-lipoic Acid) - 60mg, Ceramides (Derived from Rice) - 10mg, Fisetin - 10mg, Phyllanthus Emblica Extract - 300mg, Rose Hip Extract - 200mg, Salmon Roe Extract - 4mg
Allergen Information: Formulated without milk, eggs, fish, crustacean shellfish, tree nuts, peanuts, wheat, soy, sesame, or gluten. Produced in a state-of-the-art FDA-registered, third-party verified, cGMP compliant facility. While this product avoids aforementioned allergens, the facility might process other products containing these.
Safety Notice:
Keep away from children's reach. Expecting mothers, nursing individuals, seniors, minors below 18, individuals on prescribed medication (like blood thinners), or those diagnosed with medical conditions must seek guidance from a healthcare professional prior to consumption.
Ensure the seal remains intact for your safety. Avoid usage if the seal appears tampered. For optimal efficacy, store in a cool, dry setting away from direct light, heat, and moisture.